Using CHARS
Polar Knowledge Canada is now accepting requests for research support and use of public space at CHARS for 2023. Applicants are advised that all requests will be assessed alongside evolving public health advisories, travel restrictions, and health and safety precautions at CHARS in response to the COVID-19. POLAR will continue to monitor the public health guidance closely and will communicate directly with applicants throughout 2023 on the feasibility of their requests.
The Canadian High Arctic Research Station (CHARS) includes research labs, centres for technology development and knowledge sharing, and facilities for teaching, training and community engagement.
On this page: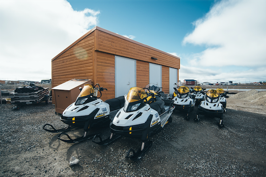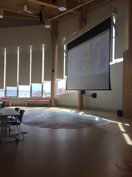 Research Support
A limited supply of field equipment is available to researchers with appropriate training. Trucks and other vehicles can be rented from local businesses. Researchers may be required to arrange their own transportation to and from the airport.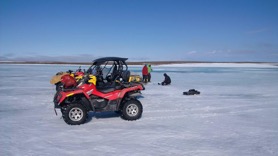 Licensed guiding, wildlife monitoring services, and field technicians are available from local businesses and individuals. POLAR can assist researchers in obtaining these services.
Will your research take you to CHARS in 2023?
Here is the Polar Knowledge Canada (POLAR) Research Support Request form to be submitted for any candidates wishing to work out of CHARS. This support includes on-site accommodations, access to all-terrain vehicles (ATVs), snowmobiles, small boats, fat bikes, sleds, and trailers, as well as support from our Operations Team field technicians.
Transcript

[Chris] Hi, I'm Chris Chisholm. I'm the acting director of facilities with Polar Knowledge Canada, the federal government agency tasked with operating the Canadian High Arctic Research station in the beautiful downtown Cambridge Bay. We provide operational support to all of the various teams who use the facilities. Behind me to my right is the main research building which comprise of large amounts of public space for external meeting as well as lab space for our visiting research scientists who come from all over the world.

[Martin] My name is Martin Leger. I am the laboratories manager. In terms of laboratories, we have a necropsy laboratory, we have microscopy, we have growth chambers, genomics laboratory, general analytical laboratory and a few other laboratories as well. Behind me to my left is the field maintenance building which houses our heating plant and our main electrical service. We also have warehouse space as well as office space for our field and operations team.

[Scott] My name's Scott Johnson. I'm the manager of field operations. Most of the work that I do would be to coordinate and organize any field operations that visiting researchers would be conducting. That could entail using ATV's to go out in the land, using snowmobiles, using boats to go out in the water, or staging any type of activity that they're going to require, a helicopter or going on other types of vessels, as well as any activity that involves research off CHARS site.

[Chris] Over my left shoulder is Triplex unit #9. We have a further one down in the distance. In each building there's three housing units. Each housing unit has four bedrooms and in each bedroom there are bunk beds, meaning my total capacity for visiting research scientists who come from all over the world is 48 beds. In each triplex units there's two washrooms as well as laundry facilities and a full kitchen, meaning these are self-sustaining apartment style units. As you can see here at CHARS, POLAR can provide all of your needs and meet your requirements for any type of field research as well as accommodations.
Also below is the assessment criteria used to evaluate all Research Support Requests seeking approval.
Please fill out all applicable sections and submit it by the prescribed deadline at the top of the form.
POLAR Research Support Request forms. You must complete Form 1 and Form 2. Please note: the Research Support Request form must be filled out with Adobe Acrobat Reader DC (free), or Adobe Acrobat Pro DC.
POLAR is now providing an estimate of the in-kind support it provides through its research support program. The Research Support In-Kind Rate Sheet is used to estimate accommodation, operational, equipment and lab support provided to approved projects.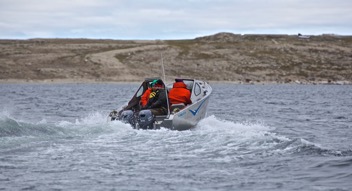 Deadline dates
If you plan to conduct research at CHARS…
...between March 1 and June 30, 2024, you need to submit your completed request by Friday November 25, 2023.
...between July 1 and October 31, 2024, you need to submit your completed request by Friday February 29, 2024.
…between November 1, 2024 and February 28, 2025, you need to submit your completed request by Friday August 25, 2024.
Contact researchsupport-soutienalarecherche@polar-polaire.gc.ca for more information on how to apply.
Public Areas
There are a variety of meeting, conference and breakout rooms available in the Main Research Building (MRB) at CHARS that may be reserved:
Space Descriptions
Occupant Capacity
Room Dimensions
Resources
Meters
Feet
Knowledge Sharing Centre
40
9.8 x 9.8
32 x 32
- Interactive white board
- Simultaneous interpretation equipment
Multi-use space
126
12 x 12.5
40 x 41
- Projector and large screen
- Microphones and speakers
- Simultaneous interpretation equipment
Interpretation room
5
4.5 x 3
15 x 10
- Simultaneous interpretation equipment
Interview room(s)
4
3 x 3.5
10 x 12
- Teleconferencing capabilities
Meeting room(s)
4-6
3 x 4
10 x 13
- Teleconferencing capabilities
- Interactive white board
Large boardroom
28
13.5 x 5
44 x 16
- Teleconferencing capabilities
- Videoconferencing capabilities
- Interactive white board
General computing
laboratory
22
7.5 x 8.5
25 x 28
- 18 computer stations
- Additional computing services
For more information on how to request a space, please contact forms-formulaires@polar-polaire.gc.ca.