Using the CHARS Campus
The Canadian High Arctic Research Station (CHARS) campus includes research labs, centres for technology development and knowledge sharing, and facilities for teaching, training and community engagement.
On this page: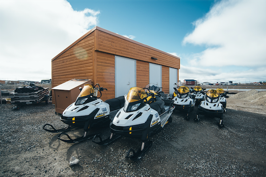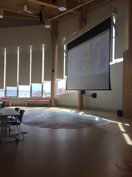 Research Support
A limited supply of field equipment is available to researchers with appropriate training. Trucks and other vehicles can be rented from local businesses. Researchers must provide their own transportation to and from the airport.
Licensed guiding, wildlife monitoring services, and field technicians are available from local businesses and individuals. POLAR can assist researchers in obtaining these services.
Will your research take you to the CHARS campus in 2019?
Here is the Polar Knowledge Canada (POLAR) Research Support Request form to be submitted for any candidates wishing to work out of the CHARS campus. Please fill out all applicable sections and submit it by the prescribed deadline at the top of the form. Also below is the assessment criteria used to evaluate all Research Support Requests seeking approval.
Please note: the Research Support Request form for must be filled out with Adobe Acrobat Reader DC (free), or Adobe Acrobat Pro DC.
Contact ResearchSupport@polar.gc.ca for more information on how to apply.
There are a variety of meeting, conference and breakout rooms available in the Main Research Building (MRB) at the CHARS campus that may be reserved:
Space Descriptions
Occupant Capacity
Room Dimensions
Resources
Meters
Feet
Knowledge Sharing Centre
40
9.8 x 9.8
32 x 32
- Interactive white board
- Simultaneous interpretation equipment
Multi-use space
126
12 x 12.5
40 x 41
- Projector and large screen
- Microphones and speakers
- Simultaneous interpretation equipment
Interpretation room
5
4.5 x 3
15 x 10
- Simultaneous interpretation equipment
Interview room(s)
4
3 x 3.5
10 x 12
- Teleconferencing capabilities
Informal meeting area
37
7.5 x 5
25 x 16
- Lounge area with chairs
Meeting room(s)
4-6
3 x 4
10 x 13
- Teleconferencing capabilities
- Interactive white board
Large boardroom
28
13.5 x 5
44 x 16
- Teleconferencing capabilities
- Videoconferencing capabilities
- Interactive white board
General computing
laboratory
22
7.5 x 8.5
25 x 28
- 18 computer stations
- Additional computing services
To request use of public areas at the CHARS campus, complete and submit a Use of Public Areas Request
Form: ENGLISH | FRENCH | INUKTITUT | INUINNAQTUN
For more information on how to request a space, please contact forms@polar-polaire.gc.ca.
Report a problem or mistake on this page
Date modified: